Invest in the Art of a New Movement Founded by World-renowned British Painter Charles Harris MA BA

A great deal of interest has been shown in the Art of Charles Harris world-wide and this is a unique opportunity now to invest in his new Art for the future. Your investment can take a number of different forms, you need only ask.

For those of you considering the purchase of a Painting, or commissioning a Major Work, or purchasing a pastel or drawing, the timing could not be better.
The investment opportunity and the benefits of purchasing Charles Harris' work are really excellent. For here is a unique opportunity to become a part of the new future of Art, as well as owning a beautiful object.

Practically, this is real Art, painted entirely in front of the subject, using the methods developed during the Renaissance six hundred years ago. Ownership in this respect will make you a part of a very exclusive group, who both appreciate and own Charles' works.

Artworks by Charles Harris are held in the private collections of many famous and esteemed people throughout the world.
He feels distinctly honoured by this patronage and the support he has received throughout his career.

Professionally he helps people understand what they are looking at with Art. While academically, his work is considered to be on a par with that held in National Collections. In fact his work is held in Royal Collections, two in Buckingham palace for Her Majesty Queen Elizabeth II and two at St. James' Palace for HRH the Prince of Wales. The Prime Minister Tony Blair also has one of Charles' pictures.
'The Road from Murrayshall' by Charles Harris
In reality, there are many attractive reasons for considering his Art as a serious investment.
The joy of ownership is also enhanced, for unlike museum displays with limited opening hours, you may sit and take pleasure in your investment as often as you like, in your own home or office.
The presence of Charles' artwork will not only keep you company, but increase the beauty within your spaces. In reality, we are talking about much more than just buying a contemporary painting, for the exactly the same amount of money invested.
Currently it is expected that his present artistic world-renowned reputation within Art will develop into a general household name within the next five years.
For the present my part is done. I believe I have made you aware of the enormous potential of a winning investment with Charles Harris. I therefore look forward to hearing from you regarding your investment request.
We therefore look forward to hearing from you regarding your investment request. Please contact me and I shall be pleased to assist you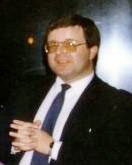 – John Bain – Strategic Business Consultant