Charles Harris has exhibited extensively throughout his career. His aim has been to present academic traditional Art and we have given various examples of his ideas from exhibitions in chronological order from the outset of his career at the Royal Academy to the famous World Tour Exhibitions and private exhibitions including an exhibition for the Prince of Wales in Rome.
Early Works at Major Public Exhibitions in London include:
The Royal Academy Diploma Student Exhibition, London, England BA Course.
During this period, Charles won both the Royal Academy Bronze Medal and Silver Medal together with the Freedom of the City of London for his work. See further examples of these works in 'Biography' section and Charles' prizes in the 'Awards' section.
The Royal Academy Diploma Student Exhibition, London, England MA Course.
Charles also began immediately to exhibit at the Royal Academy Summer Exhibitions and with the various professional societies at the Mall Galleries in London.
Royal Academy Summer Exhibition, London, England
Royal Academy Summer Exhibition, London, England
Examples of work by Charles Harris accepted at the Royal Academy Summer Exhibitions
The Royal Society of British Artists Exhibitions
Charles also exhibited at many other professional societies at the Mall, but with limitations of space we will just mention the names.
Pictures selected for exhibition at the Mall Galleries by Professional Societies:
Royal Society of Portrait Painters Exhibitions
Royal Institute of Painters in Watercolours Exhibitions
New English Art Club Exhibitions
United Society of Artists Exhibitions
Free-Standing Painters and Sculptors Exhibitions
Charles was elected to membership and associate membership to a number of these societies.
In chronological order, Charles also began his career with a series of One-man Exhibitions.
Major one-man shows include:
Woodlands Gallery, Blackheath, London 1982
The Heritage Centre, Kingston Upon Thames 1983
Opening Exhibition at the Ashley Centre, Epsom, Surrey, 1983
Bookham Grange, Bookham, Surrey 1984 and 1986
National Counties Building Society, Surrey
In Scotland, Charles staged three one-man exhibitions over a twelve month period in the City Hall, Perth.
At one of these Exhibitions, Charles received more visitors in three days, including an evening private view, than a public museum received in an entire year.
Charles also staged a further one-man show in Paris, France.
From the outset of his career, Charles also had work exhibited in major combined exhibitions throughout this period (pre-World Tour exhibitions).
Major Combined Exhibitions include:
Artists of Today and Tomorrow – the New Grafton Gallery Bond Street London.
Principal Co-ordinator, Secretary and Exhibitor at the National Exhibition of Artists for Peace, staged in Picadilly London. This Exhibition saw the first showing of 'New Traditional Art™'. This very large Exhibition drew the support of many, which included a number of Royal Academicians and leading artists at the time, eg: Philip Alder, J. de Araoz, Diana Armfield, Paul Bartlett, Roy Blackman, Norman Blamey, Lawrence Gowing, Rozanne Hawksley, Christine Leadbetter, David Morris, Victor Pasmor, and Ruskin Spear.
Charles also had work in private and commercial exhibitions, beginning with:
The Haslesmere Gallery
The Tom Caldwell Galleries Belfast and Dublin Ireland
The Edinburgh Gallery, Edinburgh (shared an exhibition with Jack Vettriano)
Seven Nations Celtic Festival, Brittany France
Scottish National Heritage Conference Centre, Battleby
RSAMD, Glasgow
Glamis Castle, Glamis Scotland
The Queens Hall, Edinburgh 1997
Works On Tour With British Telecom – Scottish Orchestral Ensemble
The Exhibitions were described as a wonderful opportunity to combine the listening experience of Classical music with the visual experience of academic Traditional Artwork. The link was forged after a conversation between Mr. Harris and the Ensemble's Managing Director Roger Pollen. Charles said, "We were extremely pleased to receive the invitation. These are outstanding musicians and we're delighted my work has been chosen to complement their performances."
Major one-man exhibition at Gleneagles Hotel for the Institute of Directors
The World Tour Exhibitions
By this point in his career, Charles' strong honest views about the values of Traditional Art were proving popular with the public although, frequently neglected by the lack of genuine media attention. It was at this point that Charles made a crucial decision:
Undismayed by the antics of so-called Modern artists, Charles launched his 'New Traditional Art™' onto a world stage with a World Tour of his work.
Beginning at the SECC Glasgow in Scotland, the World Tour has included Belfast and Dublin in Ireland, several exhibitions in New York, both North and South Carolina in the USA, Nizhny Novgorod in Russia, Brittany in France, Johannesburg in South Africa, Hong Kong in China, several exhibitions in Florence and Rome in Italy plus Earls Court and Olympia in London.
The World Tour Exhibitions
This large public exhibition was staged in the City of Nizhny Novgorod in Russia and opened by the Duke of Kent and the Governor of Nizhny Novgorod.
The Exhibition was organised through the good offices of the Russo-British Chamber of Commerce in association the British Department of Trade International and Scottish Trade International. The show was opened by HRH the Duke of Kent and the Governor of Nizhny Novgorod. Immediately after the ceremony, Charles was featured in two early-evening news broadcasts and the following day, Charles took part in an hour-long live broadcast on Russian Network Television. For the rest of the time, the Exhibition was flooded with people seeking autographs.
During the period of the World Tour Exhibitions, Charles also completed a number of smaller, private exhibitions, including a Royal request for a private Exhibition in Rome. (see below)
A Private Exhibition for HRH The Prince of Wales: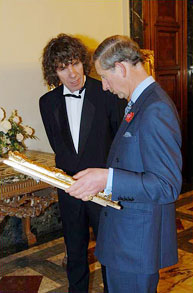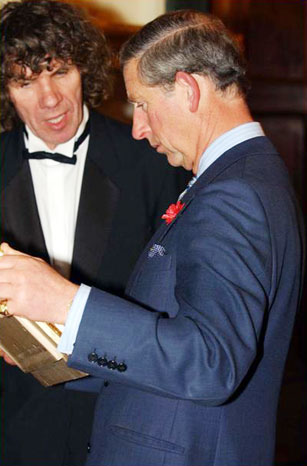 H.R.H. The Prince of Wales with Charles Harris MA BA
This private exhibition was staged for H.R.H. The Prince of Wales at the British Ambassadors Residence in Rome. November 2002.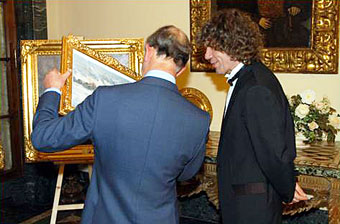 The World Tour Exhibitions:
South African Exhibition Johannesburg
The Queen of Swaziland asked to meet Charles Harris at the International Art Exhibition after seeing the composition of his paintings. The Queen said she was impressed by the paintings and requested to meet him personally. The Queen said – "I admired the beauty in these pictures and the reality they conveyed. I immediately recognized their importance. In South Africa we have seen a lot of abstract, semi-abstract and conceptual style Art brought into our country, but we did not find it convincing." – HRH Queen LaNgangaza of Swaziland.
"Charles Harris has championed 'New Traditional Art™' which eschews contemporary movements to concentrate on 'the Great Tradition' of skilful painting. He insists that his models sit throughout the painting." – Stephen Breen, The Scotsman Newspaper UK.
In an official statement Prince Cedza Dlamini said – "I am impressed by Charles Harris' New Traditional style and I plan to promote it in South Africa and Swaziland. The Queen herself was impressed by the paintings of Charles Harris and requested to meet him personally. This new traditional style art by Charles Harris we find very real. The parallels between this Art and our country are very obvious. It looks forward to a new future while looking back to a great tradition."
– HRH Prince Cedza Dlamini of Swaziland, Ambassador for Swaziland, South Africa.
Gillian Harris, of the Times Newspaper, UK wrote – "Charles Harris was chosen by Queen LaNgangaza of Swaziland, one of King Mswati III's eight wives. She saw his paintings of wintry landscapes at an exhibition in South Africa and sent a message that she wished to see him. This Scottish artist will the first Westerner to paint an official portrait of an African Royal Family. Arrangements for Mr. Harris are being made by the King's brother, Prince Cedza Dlamini, husband of Nelson Mandela's daughter Zenani."
The World Tour Exhibition in Hong Kong
The largest of Charles' Exhibitions was held at The Landmark in Hong Kong which came about as a result of a kind private invitation from one of the wealthiest men in the world, the Taipan of Hong Kong, Percy Weatherall, MD of Jardine-Matheson. (see photo above).
The World Tour Exhibitions – New York
Reacting to the closed elitism of British Arts Councils and their satellites with their apparent bias towards Modernism, Charles deliberately chose very large public venues to show his work. Professionally, all of these events received extensive television, radio or media coverage.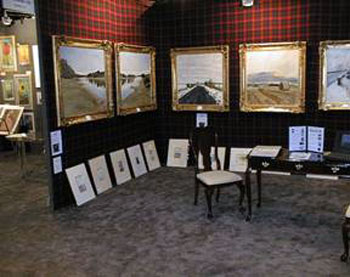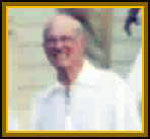 The World Tour Exhibitions in North and South Carolina
Charles at Red Springs
Charles at the Grandfather Mountain Scottish Clan Gathering.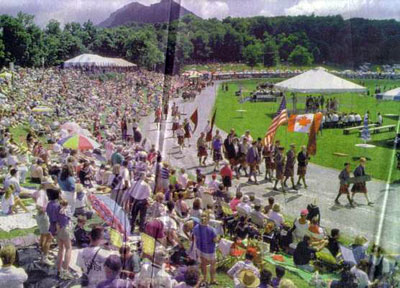 Charles, who has been frequently called Scotland's Best Unofficial Ambassador, stages an Exhibition of traditional Scottish Art at Grandfather Mountain.
This Exhibition was organised through the kind assistance and support of the Rev. Dr. Douglas Kelly, his wife Caroline and family members, together with close friends in North and South Carolina who assisted Charles with this major endeavour.
The World Tour Exhibition in Belfast
This Exhibition was also of interest to Charles for the Lord Mayor asked him to report on an Installation Art exhibition at the Riverside which was taking place at the same time. The exhibition showed a video screen with a dancer, presumably imitating the sugar-plum fairy from the famous ballet, and every time she landed, bouts of machine-gun fire rattled out through banks of loudspeakers.
Charles said, "Regarding media coverage for things like this, I suspect that, when our daily media get hold of something odd and new-fangled, and say, 'This is new', they are unsure of what to say next. So they go for the safe option and then say, 'Isn't it wonderful.'
But Art doesn't follow like that. Of course it may be new and it may also be different. It may be something to talk about today, but it doesn't mean it will be interesting in three weeks time. This also doesn't make it Art."
The World Tour Exhibition in Dublin
"Looking at this work, I have never learned so much about painting in such a short period of time." – Padraig Flynn, European High Commissioner, Dublin, Ireland.
The World Tour Exhibition in Glasgow
The World Tour Exhibition in Dundee
In Dundee, the work of Charles Harris was chosen to provide the first point of contact for the passengers on the Cunard liner Royal Viking Sun as it arrived in Scotland. This kind invitation was received from Caroline Smith, Scottish Ports Authority, Dundee, Scotland.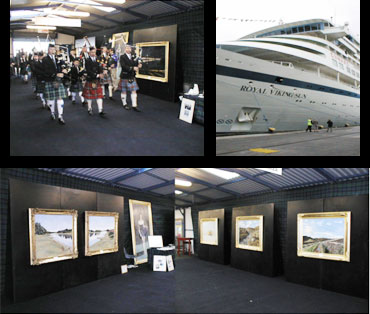 "I saw this work and immediately knew this is what we wanted as the first point of contact to represent Scotland." – Caroline Smith, Scottish Ports Authority, Dundee, Scotland.
The World Tour Exhibition in Florence Italy
Charles staged his first public Exhibition in Italy at the British Institute in Florence, where he later staged a series of Masterclasses.
The Exhibition was organised through the kindness of Christine Wilding, Director of the British Institute and was opened by the British Consul-General Moira McFarlane.
British Consular-General Moira McFarlane who opened the Exhibition at the British Institute in Florence.
Charles was featured on RAI State Television in Florence Italy in a live thirty minute interview on their Culture channel plus he received several major newspaper features for his Exhibition at the British Institute Florence Italy.
For the thirty minute private interview on RAI Television, Christine Wilding kindly again provided outstanding translations for this event.
The World Tour Shows in Florence Italy (Scottish Market Exhibitions)
The Lord Provost of Glasgow the Rt. Hon. Elizabeth Cameron MA (featured above) said, "Your landscapes of the Perthshire hills are beautiful. They remind me of the Lomond hills".
The World Tour Shows in Florence Italy (Santa Maria Novello – Officina Profumo)
This second in a series of Scottish Market Events was organised through the offices of the Scottish Executive in Edinburgh and the British Consulate in Florence. On this occasion, Charles was honoured to be invited to exhibit his paintings in the Officina Profumo, a world-famous historic building in an equally famous Square in Florence – Santa Maria Novella. As well as Media coverage, Charles' pictures were filmed for local Italian television, where he also gave a private interview describing his works.
Considering the importance of this building in Santa Maria Novella, the photographs selected below have been chosen to present this aspect.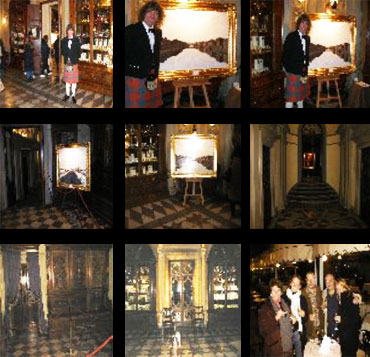 The World Tour Shows in London – The Italian Exhibition at Earls Court
Charles staged two consecutive Exhibitions at Earls Court and Olympia and was honoured to be asked to speak on Italian Renaissance Painting, a subject on which he is now considered an authority. These Shows attracted much attention and both Charles' popularity as a speaker and the popularity of his Masterclass seminars increased over both Events.
In the second year he also sat with a panel of experts advising on Art in Italy, its location and the quality one should expect from the country that created European Art from the Great Tradition as we know it today.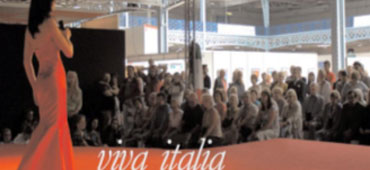 For the Italian Exhibition in London, Charles specifically chose Italian paintings. These included the Ponte Vecchio (the world's most famous bridge) and the Ponte Santa Trinita in Florence, which was designed by Michelangelo.
We have included below three photographs showing Charles painting the Ponte Santa Trinita from life on location in Florence.
The second of these paintings was completed specifically for the Italian Exhibition at Earls Court in London. It illustrates clearly the traditional realism of Charles' work and the popularity these paintings generated, especially with the Italians.
In the first year, thousands of visitors to the Italian Exhibition – 'Viva Italia' were given feedback sheets with their show programmes. The show manager Gianfranco Caputo said, "The main listed event was the Italian fashion show with its leading designer. The fashion show received 28% of the vote and Charles received 27%."
In the second year, while competing with other commercial concerns, the popularity of Charles' Shows at Earls Court and Olympia is best illustrated by the testimonial below – The best review was from Martin Herbert, who said, "We were impressed with the presentations held on the main stage, particularly Charles Harris – the art lecturer – who incorporated his passionate views into an extremely informative and entertaining lecture – we have never seen anything like it – more please!"
We have also included a further example demonstrating the popularity of these Shows where Charles received a special request to be photographed in front of his paintings from the models of 'Models One' – London's leading modelling agency.
Exhibition Requests
Charles constantly considers requests to stage Exhibitions all over the world.
If you would like him to stage a traditional Exhibition for you, please contact us with your details.